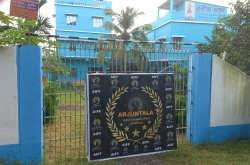 Welcome to the Arjuntala International Film Festival, a unique event that reimagines the traditional film festival experience. AIFF offers filmmakers a genuine opportunity right from the moment they submit their work. Founded by a passionate group of creatives, our festival is driven by a love for artistic innovation and an unwavering commitment to nurturing emerging talent.

Our mission at AIFF is crystal clear: we're here to empower filmmakers as they launch their professional careers in the world of cinema. This means not only showcasing your work on a global stage but also ensuring significant press coverage and connecting you with influential figures. These connections include sales agents, distributors, renowned production companies, talent agencies, and visionary producers.

AIFF is genuinely international, welcoming filmmakers from every corner of the globe. We eagerly anticipate films that exude courage, personal determination, and distinct voices. Our enthusiasm for creativity knows no bounds, and we wholeheartedly embrace a wide range of projects that exemplify ingenuity and artistic brilliance. Our dedication extends to supporting and inspiring content creators, creating an environment where creativity can truly flourish.

Allow us to introduce the Arjuntala International Film Festival, where the spotlight finds its way to filmmaking every month. For the winners of AIFF, we proudly present an exclusive laurel and certificate in JPG format that you can display or print with pride. Submit your masterpiece today and set off on your cinematic journey with AIFF. It's an unparalleled opportunity to break through boundaries and unlock new horizons in the world of filmmaking.
Arjuntala International Film Festival: Celebrating Excellence in Film with Best Awards Across All Genres.

Best Drama

Best Action

Best Horror film

Best Documentary

Best Feature

Best Western

Best Romance

Best Science fiction

Best Thriller

Best Adventure

Best Comedy

Best Fantasy

Best Animation

Best Film noir

Best Romantic comedy

Best Experimental

Best War

Best Crime

Best Mystery

Best Action/Adventure

Best Musical

Best Fiction

Best Dark comedy

Best Biopic

SPECIAL JURY AWARD

CRITICS' CHOICE AWARD

HONOURABLE MENTION AWARD

AUDIENCE CHOICE AWARD
Celebrate the magic of filmmaking at Arjuntala International Film Festival! Here are some important guidelines and details to keep in mind:

Originality is a must, and you should have the necessary screening rights for your submissions.
We welcome films of all genres, be it narrative, documentary, animation, or experimental.
Feel free to submit multiple entries, but each one requires a separate entry fee, which is non-refundable regardless of the selection outcome.
By submitting, you grant us permission to use parts of your film for promotional purposes.
You can submit multiple entries throughout the festival, as we are always open to discovering new talent.
Selected films will not be available online during the festival to maintain exclusivity.
Our showcased films will receive promotion through trailers, posters, and stills.
Please note that explicit sexual content or pornography is strictly prohibited.
We also encourage filmmakers to avoid excessive depictions of torture, snuff, or mutilation content.
We take the maintenance of high standards in film production seriously.
There is a nominal fee for each submission during the process.
Make sure the submission link you provide remains accessible.
Our selection committee will review and choose films that align with our vision.
Filmmakers will be informed via email before the festival begins.
Chosen films will feature at the Arjuntala International Film Festival's screening venues.
A jury will select films for various categories, recognizing excellence.
The festival may attract media attention and press coverage.
We expect all attendees to maintain a respectful atmosphere and uphold the spirit of the event.
Join us at the Arjuntala International Film Festival, where the world of cinema comes to life in a celebration of creativity and storytelling.
1 Reviews
Write a Review:
Please log in to write a review!