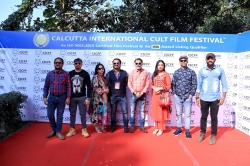 *** New Season Offers 80% DISCOUNT on all submissions***

USE CODE - CICFF80NEW

Calcutta International Cult Film Festival (CICFF) is a prestigious organization, proudly holding ISO 9001:2015 certification and being recognized as an IMDb Award Listing Qualifier.

This monthly film festival culminates in a grand annual live-screen mega event in Kolkata, the City of Joy. The noteworthy Golden Fox Awards, held at the historic Rotary Sadan in January 2022, set the stage for the forthcoming annual gala in early 2023. During this event, films that emerged as monthly winners between January and December 2022 will automatically contend for the esteemed GOLDEN FOX AWARDS, 2023, the epitome of excellence in cinema. The talented filmmakers will have the privilege of attending the Annual Live Screening Gala, graced by juries, critics, film scholars, and distinguished figures from the global film industry. Notably, films can secure multiple awards by entering different categories. CICFF's mission is to cultivate a film culture that transcends borders, fostering cross-cultural innovations that enrich lives through information, education, and entertainment.

With over 50 films selected each month and at least one winner in every category, CICFF is a platform that celebrates diversity and showcases the best films in Calcutta, sharing them on IMDb pages when applicable. The annual event offers nominees a valuable opportunity to exchange ideas and cultural perspectives, while winners can engage in enlightening Q&A sessions post-screening.

CICFF is an integral part of the Human Lab Corporation, a multinational film production and distribution company, further solidifying its commitment to the world of cinema.
The awards are given in the following categories:
Best Director
Best Young Filmmaker (under 18)
Best Debut Filmmaker
Best Cinematography
Best Editing
Best Sound Designing
Best Actor
Best Actress
Best Supporting Actor
Best Supporting Actress
Best Narrative Feature
Best Documentary Film
Best Experimental Film
Best Short Film
Best Student Film
Best VR/AR and 360º Film
Best Drone Film
Best Web and New Media Film
Best Mobile Film
Best Horror/Science Fiction Feature Film
Best Women's Film
Best Film on Women
Best LGBT Film
Best Animated Film
Best Family/Children Film
Best Educational Film
Best Film on Disability Issue
Best Film on Religion
Best Film on Nature/Environment/Wildlife
Best Travel Film
Best Silent Film
Best One Minute Film
Best Postmodern Film
Best Free Speech Film
Best Television/Pilot Program or Series
Best Commercial/Advertisement
Best Music Video
Best Film Score/Soundtrack
Best Trailer/Teaser
Best Film/Video Poster
Best Photography
Best Treatment/ Synopsis
Best Short Script
Best Feature Script
Besides the WINNER AWARD, there are also OUTSTANDING ACHIEVEMENT and CRITICS' CHOICE AWARD, which are given in different categories.
Each year we select a Winner amongst all the monthly winners, who will receive the prestigious GOLDEN FOX AWARDS.

RULES & REGULATIONS:
** Please make sure that your project follows all the mentioned criteria before submitting **

CICFF is open to any film completed after January 1, 2015, regardless of content, subject, or origin. Submitting your film to this festival does not guarantee a selection. All officially selected candidates and the winners will be listed on our website permanently. All Award winners will receive a certificate and laurel. Annual winners have the opportunity to win the Golden Fox Awards.

1. Films made in languages other than English must have English subtitles, otherwise, they will automatically be rejected.

2. The film submitted to the CICFF for a particular month can be re-submitted in a different category, at any time for a second chance.

3. A submitter can submit more than one film in a single category or a single film in more than one category, simultaneously.

4. CICFF will be granted the rights to utilize an excerpt from any film submitted, for promotional purposes of the festival within India only. The individual or corporation submitting the film hereby warrants that it is authorized to commit the film for screening, and understands and accepts these requirements, rules and regulations.

5. CICFF reserves the right to refuse entries if a violation of any of the above rules is found.

6. You agree to indemnify and hold harmless the CICFF, from and against any and all claims, liabilities, losses, damages, and expenses (including but not limited to attorney's fees, and costs of the court) which may be incurred by reason of any claim involving copyright, trademark, credits and publicity.

7. The CICFF will not refund any fees if the filmmaker fails to submit the film in the correct category. Films submitted without the correct fees or proper submission media may be deemed ineligible at the discretion of the CICFF programming director or executive director. The festival does not cover any of the expenses incurred by the filmmaker.

8. After a film has been an official selection, the filmmaker will be notified, and eventually the film will be listed on the festival website under Official Selections. The Official Selection status doesn't mean that your film will be screened at the festival. It means that your film has been appreciated by our judges of the panel and you can use the festival logo on your poster.

9. A nominee will be privately screened for the CICFF judging panel, and will not be screened initially to the public.

10. "Best" films of each category will receive a laurel & certificate.

11. A filmmaker's submission fee will not be reimbursed if they decide to withdraw their submission. All entry fees are non-refundable.

12. We require an official trailer or poster, a synopsis and a link to your film. Please select the correct category while submitting to avoid disqualification. We reserve the right to re-assign films to the appropriate category.

13. CICFF may without advance notice amend these Rules & Terms from time to time. Each and every such amendment shall become effective immediately. It is your responsibility to periodically check for updates on these Rules and terms.
14 Reviews
Write a Review:
Please log in to write a review!