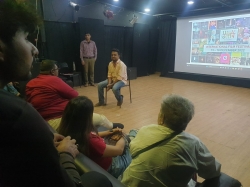 Utsav – Celebration or Festival

We have started this LGBTQ+ & Independent Film Festival for cinema lovers. This film festival will be a celebration of creativity and ideas. After a successful completion of the first edition of the festival, we are now ready for the second edition.

LGBTQ+ cinema globally as well as in India has become an important part of the film industry. OTT platforms have increased the reach of these films to a larger audience. Of course, these avenues are mostly for mainstream cinema and filmmakers. There are a lot of independent film makers who also have interesting stories to present. We hope that this festival will be a platform for these independent film makers and their wonderful stories.

Each film has various components – story, script, cinematography, editing, sound, music, acting – to name a few. In this festival, we wish to acknowledge all aspects of film making and creativity. Thus, we hope that film makers will be encouraged to submit their work to showcase any or all aspects of their creativity.

Not all film makers, particularly independent filmmakers, and students, have the luxury of large budgets and wonderful locations for filming. We appreciate these limitations and would like to provide a platform to these filmmakers. We would encourage first time filmmakers who would like to present their work to submit to the festival.

It is also important to learn from each other's experiences. During the festival, we hope to have panel discussions with filmmakers, writers, editors, sound engineers, cinematographers, musicians, and audience as well. This healthy exchange will enrich the experience.

The first two days of festival will be for LGBTQ+ cinema, and the next two days will be for other independent films in this edition of the festival.

Come be a part of this 'UTSAV'!

Best Narrative Fiction - Feature
Best Narrative Fiction - Short
Best Documentary
Best Webseries
Best Student Film
Best Experimental Film
Best Screenplay
Best Director
Best Actor
Best Editing
& Other Awards

The films should be LGBTQ+ themed or the main characters of the films should be LGBTQ+. For the purposes of this festival this includes Lesbian, Gay, Bi-sexual, Transgender, Hijras, Intersex, Pansexual, Non-Binary, Gender Fluid, and Queer.

We will also accept other Independent cinema for this edition of this film festival

We will accept films in these categories: Narrative Shorts, Narrative Features, Documentaries, Experimental, Web series, and Student Films

* Narrative Short Films: The maximum duration of films in this category is 40 minutes.

* Narrative Feature Films: Any film more than 40 minutes will be considered a feature film for the purpose of the festival.

*Documentary Films: They should be documentary films of any length. However, as highlighted earlier, it can be LGBTQ+ themed or other independent cinema.

* Experimental films: Experimental films with a maximum duration of 15 minutes will be considered in this category.

* Web series: This includes more than one episode of the series. We do not have time limits for each episode.

*Student films: Films submitted by current film students will be considered for this category. Each submission should include a valid identity card from a film school.

All the films should be subtitled in English (if they are not in English)

We will not include pornographic films in the festival.

There are no restrictions on previous submissions or date of production.

By submitting the film to the festival, you agree to the terms and condition of the festival. You agree to let the organisers show the film in the festival and password protected online in cases of hybrid festival. The films will be screened in the physical festival or online festival, or both.

By submitting to the festival, you agree that you have all the rights (including copyright if required) for this submission.

By submitting to the festival, you agree that a part of your film (maximum up to two minutes) may be used for

Each selected film will receive a laurel and certificate.

All the selected films will be eligible for awards.

You agree to pay the required submission charges for the festival.


2 Reviews
Write a Review:
Please log in to write a review!