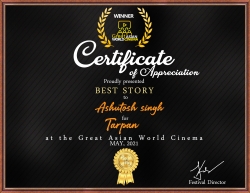 This is a monthly contested international online film festival with an annual winner with Certificate and trophy . The winning film of each monthly contest has to compete with each other at the end of the year and overall winners will be chosen by our esteemed jury of film critics and filmmakers.
We accept feature films, short films, documentaries, animations, music video and web series of any genre. Every months our judges will watch and rate the submitted films. The Best Films announced as the winner of the month.

However, as physical festival can only welcome a few filmmakers, we realized that we wanted to be able to share more movies and this all year long. That is why we have decided to create an online film festival that will be like an "all year long festival"
Best Feature Film
Best Short Film
Best Documentary
Best Animation
Best Experimental Film
Best Screenplay
Best Music Video
Best Drama
Best Comedy
Best Thriller
Best Director
Best Editor
Best Cinematographer
Best Music Director
Best Actor
Best Supporting Actor
Best VFX
Best Background Score
Best Colorist
Best Script
Best Music Video
Special Mention
Critics Choice
Outstanding Achievement
Submitting your film to the Great Asian World Cinema Film Festival is not a guarantee of selection. We treat every filmmaker equally. All the official selection, nominees and the winners will be listed on our website permanently.

Films made in languages other than English must have English subtitles otherwise they will be summarily rejected.

Do not submit works in progress.

A filmmaker's submission fee will not be reimbursed if they decide to withdraw their submission.

All entry fees are non-refundable.

A Filmmaker can submit multiple number of Entries.

All Film Entries should be submitted online only.

After a film has been an official selection, the filmmaker will be notified, and eventually the film will be listed on the festival website under Official Selections. The Official Selection status doesn't mean that your film will be screened at the festival. It means that your film has been appreciated by our judges of panel and you can use the festival logo on your poster.

Winners of each category will receive a laurel, certificate & Trophy.

Any narrative work of fiction (including Animation films) with a running time of 45 minutes or less will be considered as Short film.

Any non-fiction work of film with a running time of 45 minutes or less will be considered as Documentary film.

Running time above 45 minutes (including Animation films) will be considered as Feature Film/ Feature Documentary. And it can be any duration.

For Screenplay contest, the Screenplay must be the original work of the author.

Less than 25 pages will be considered as Short script. And it can be any genre.

Above 25 pages will be considered as Feature script. And it can be any genre.

We accept any form of Web series and Music videos.
5 Reviews
Write a Review:
Please log in to write a review!