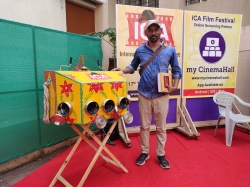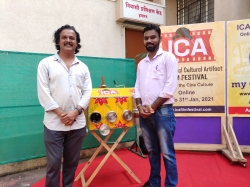 We want to take the serious cinema culture to the people. It is also our aim to develop a fundamental understanding of cinema in the next generations. It is our endeavor that, through this, we can organize progressive and democratic cine artists who uphold human values; and explore the possibilities of making more and more films with social consciousness.

Vision
As a unique creative and learning experience, we curate innovative programs that develop artists and leaders, inspiring them to conceive and create powerful works and ideas that are shared with the world. We believe film as an art form has the power to bridge cultures and illuminate the universality of the human experience. Our principles objectives encompass promoting film to an ever-widening audience as a powerful medium that inspires creativity, encourages introspection and compels exploration.

Mission
ICA International Cultural Artifact Film Festival exists to inspire artists and leaders to make their unique contribution to society. We aspire to be the global leader in arts, culture, and creativity. Our mission is to cultivate and promote the art and science of film through education and cross-cultural awareness. The Festival supports the creation and advancement of innovative and artistic cinematic works from both emerging and seasoned filmmakers and proudly embraces the passion.
SUBMISSION GUIDELINES

1. Films without English Subtitles (except Hindi,
Marathi & English Films), shall not be considered
for selection.

2. Films submitted with watermarks or logos shall be
Rejected.

3. Only Trailers or promos cannot be submitted for
selection process.

4. Film Download link with password is preferred, DVD
or Bluray are also accepted as hard copies.

5. If submitting hard copies, Two full HD DVDs/Bluray
should be sent by courier to the Festival office
Along with a hard copy of this entry form duly
filled. DVDs must be labeled with film title,
Director Name, duration, phone number and email id
on them.

6. Director pic, Poster, Making Stills, Film
Synopsis, and Payment Receipt may be attached in
an email.

7. For submissions coming from outside India, the
packages must be marked, "For Festival & Cultural
Purpose only, No Commercial value".

8. ICAFF does not pay screening fees to film makers.

9. ICAFF will not return the Films submitted online
or video DVDs during or after the festival.

10. Censor certificate is not mandatory.

11. Multiple entries can be submitted, but with
separate entry forms. Each film is considered as
a new entry.

12. Female Filmmaker Category is Only for those films
which are directed by Female Filmmakers. (Female
Directors Photo and Bio needs to send though
Email, Without Documents film will be not
Eligible for this Category).

13. If you are submitting in Students Category,
Kindly Mail Your Photo and Valid Id Card
of your Institute on [email protected]
(Valid Id Card is Mandatory) (if the documents
were not valid for Students & Female Filmmakers
Category then filmmaker need to pay the
Difference amount )

TERMS & CONDITIONS

1. ICAFF reserves the right to showcase the film in
ICA Film Festival. (We cannot share films with any
Television, Online Portal, Media Centre, Other
Film Festivals or Person).

2. ICAFF reserves the right to include the film
related material in its promotional activities.
(Promo, Trailer, Poster, Making Video and Stills).

3. All Decisions made by the Appointed "Selection
Committee" regarding Selections, screenings,
awards at the Festival in entirety will be final.
In case of Dispute, decision of the President is
final & Binding to all.

4. The film makers and their representatives
undertake to use the official logo and the status
of their Selection or Award strictly in
conformation with ICAFF 2023 designs and they
further undertake to use such festival logo in
all their promotions, posters and marketing
publications with the consent of the festival.

5. A film selected for the festival does not run in
competition automatically. A Jury will select the
films which feature in Competition.

6. The Festival shall not bear / reimburse any
freight/Courier or other charges in Foreign or
Indian currency.

7. Once selected for screening, the film shall not be
withdrawn.

8. Last date of submissions of Entries is 31/10/2023
and Date of Intimation of Selection will be
5/12/2023.

9. Only Film Produced from 1 January 2016 till date
can be submitted.
2 Reviews
Write a Review:
Please log in to write a review!