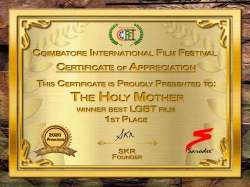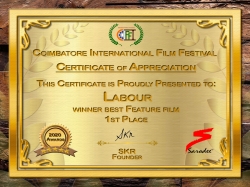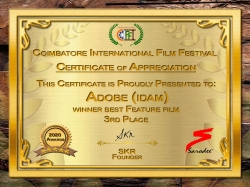 The Coimbatore International Film Festival is an International Independent film
festival.

It aspires to promote, recognize and support independent filmmakers
throughout the world by hosting a variety of awards in order to provide
the best opportunities for filmmakers, helping them receive recognition.

We welcome submissions from a range of genres including short films,
documentaries, features, animations and screenplays.

Our objective is to provide support for film-makers through reviewing,
judging, marketing, and distribution networking.

We believe our film festival will give filmmakers a chance to showcase their work to a very wide range of audiences from many different parts of the world.

Coimbatore International Film Festival is based in Coimbatore, Southern Part of India, with our jury's located around the world. All the films will go through a reviewable process by our highly experienced jury's, who will go through an evaluation process and select only high-quality films

The festival will provide up to 36 nominees in each category along with a winner per category. All nominees and winners receive laurels, certificates, trophies and the opportunity to have their films added to the Coimbatore International Film Festival website for global promotion and viewing as well as attending our live event.

All winners will receive "winner" laurel with a hard copy/soft copy
certificate and special engraved "CoIFF" trophy presented at our live screening on Event Date..
Best film of the Year will be awarded Cash price. Cash Price will be sole decision of Festival Organiser.
SUBMISSION:
A filmmaker can submit their films and screenplay online through above mentioned film festival partner's; they can also submit entries via film form available on our website https://sarodee.com/coiff
All genre films will be accepted.
SELECTED FILMS:
All selected films get the notification through email only. Festival is not published full-length film without submitter permission We send notification through email to all filmmaker, if filmmaker decides not to show film online we placed the film into the private screening, all private films are equally qualified for all the awards. A filmmaker can request to change or replace the online link of film full film with the trailer of the film anytime or vice versa. All non-English foreign language films / regional language Indian films must have English subtitles.
ONLINE SCREENING DURATION:
All selected films will be available on the website forever. The filmmaker (Submitter) can request to remove, replace the film link with trailer or vice- versa anytime they want.
WRITTEN SCREENPLAY:
We don't accept written screenplay. It'll disqualify the entry.
NOTIFICATIONS:
After a film has been selected for film competition, the filmmaker is notified via email only. The selected films will be published on the festival website. All films which are selected/nominated for the competition or Festival will be informed only by emails & listed on the festival website. No inquiries or arguments will be entertained regarding non-selected films. The decision of the selection committee will be final.
FEES:
Each entry will be accompanied by non-refundable fees The entry fee and services fee is not refundable for films that did not get selected. Entries will not be processed without entry fee payment. The submitter will be responsible for all shipping fees. Festival will not provide any courier charges.
CASH PRIZE:
One Best Film of the Year will be awarded by cash price, the Prize will be credited into the PayPal account of the submitter within 25 working days, at this moment the cash prize presents only to the Best Film of the Year chosen by our Jury and festival organiser.
COPYRIGHTS:
By submitting your film to our festival you agree that your piece of work (full film, trailer) can be uploaded/embed on our website. The filmmaker/institution that is submitting the film must own the rights to do so and is responsible for the content they are providing. By submitting, the filmmaker allows COIFF to create a page for their film without infringing the copyright of any kind of form. Filmmakers can make a request to remove the film link at any time.
FESTIVAL COMMITTEE:
The decision of the Festival Committee is final and no correspondence will be entered into. The decision of jury members will be final and accepted by all no inquiries or arguments will be entertained The organizer's reserve the right not to award any or all of the prizes. Festival Director reserves the right to take all decisions about the festival.
DISCLAIMER:
The applicant agrees to have read and accepted the rules & regulations for participation in the Monthly Online International Film Festival. The applicant confirms that he/she has the requisite authority or has obtained the requisite authority from the producer/right holder to enter this film in the Monthly Online International Film Festival and make available the print for screening. Under NO circumstance, the authorities of Monthly Online International Film Festival will not entertain or be answerable to anyone else apart from the applicant.
2 Reviews
Write a Review:
Please log in to write a review!