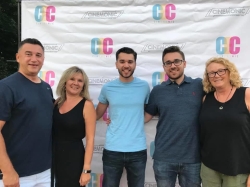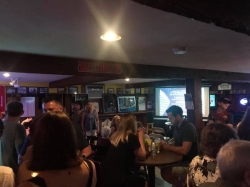 The Fourth Annual International Comedy Film festival is a chance to experience the amazing world of comedy filmmaking! The International Comedy Film festival is an opportunity to bring value and well-deserved praise to this wonderful genre. We're dedicated to showcasing films from the world's most talented comedic filmmakers. Our program is packed with award-winning films from every corner of the globe. This started as a way of showcasing our love for all things comedy, and now it's grown to be a complete celebration of comedy surrounded by other incredible talented and passionate creators in the industry: and loaded up with industry value and opportunity for our filmmakers!

We believe in selecting and awarding films that leave a laughing impact. Films that really stick with you beyond your viewing. The International Comedy Film festival is a must for both established and up-and-coming filmmakers alike. We believe in bridging this combination to provide the most value in both creative vision and professional opportunity, connecting both sides of the industry effectively.

Our selection committee programs every type of film in the comedy genre: from simple sketch, to high-budget "dramedy" and everything in-between. With our current world around us, it is certainly a good time for comedy! We need it after all. So we look forward to giving you all the most incredible International Comedy Film Festival yet!
We can't wait to see your amazing work!

**We're also official partners of The Film Festival Network! If you're interested in taking your film career to the next level online, go visit FilmFestNetwork.com - Their interview packages and review publications are built to help independent filmmakers grow. It's an amazing platform, and it's a great community to be a part of if you're interested in growing your film career! -> FilmFestNetwork.com

The 2024 Film Festival is being held through an immersive online festival event venue that will span 72 hours: Loaded up with resources, panels, interviews, masterclasses, accessible tools, networking opportunities, educational opportunities and of course: A whole lot of incredible, privately screened films. See you there!
Winners in every category will be awarded and announced live at the awards show!

ALL Finalists and Official Selections will receive 2 full festival passes to the premiere event. These passes will include everything the festival offers!

Awards will be presented in the following categories:

Best Feature Film
Best Short Film
Best Student Film
Best Super Short Film
Best Director
Best Student Director
Best Actress
Best Actor
Best Editing
Best Feature Screenplay
Best Short Screenplay
Best Online Content
Best Episodic (Web Series, Pilot, Series)
All entries should be sent via WFCN with a secure online screener.

-Each accepted film must be submitted in the .mp4 or .mov format, preferably.

-By submitting to the festival you confirm that you own the rights of the film, including the rights to the music in the film.

-Submission fees are non-refundable

-There is no minimum running time.

-Films must have been completed on or after Jan 1st, 2018.

-All comedy genres are welcome (narrative, animated, experimental, documentary, musical, sketch, etc.)

-Filmmakers may submit multiple entries as long as each film is submitted with its own Entry Form, online screener and paid Entry Fee.
0 Reviews
Write a Review:
Please log in to write a review!